Narowal: MWF distributes relief package among thousands of people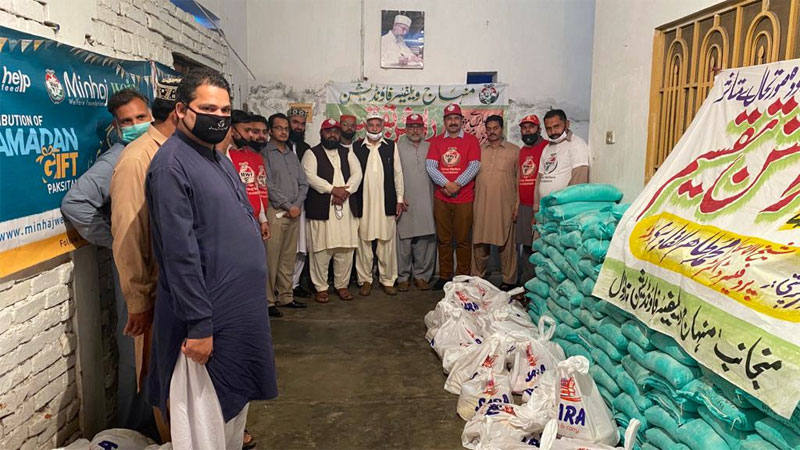 Protective masks, sanitizers, and ration packages were distributed among thousands of needy people under the banner of MWF and MQI Narowal. Shahid Zaman Lak, Deputy Commissioner Narowal, appreciated the initiative of MQI and stated that all welfare organizations should step forward with the sole mission to help those in acute need. He said the government alone cannot cope up with the magnitude of the challenge and needs the support of the civil society organizations to play their active role in community mobilization.
The Deputy Commissioner lauded the services of the Minhaj Welfare Foundation and stated that the organization deserves to be appreciated for standing with the government at this difficult hour in the shared mission of providing relief to the people who have massively hit hard by the coronavirus. He said that we should observe precautions and stay home. He said the cooperation of the people in being socially responsible will help the government deal with the situation. He said the government is doing everything possible to respond to the situation created by the spread of Covid-19.
Central Secretary Coordination Muhammad Tayyab Zia, while speaking on the occasion, said that the service of suffering humanity is not less than any worship. He said the workers of Dr Tahir-ul-Qadri are standing by the people in this difficult time. He said we fully support the policy of lock-down to break the transmission of the virus.
PAT District President Khan Abdul Qayyum Advocate and Tehsil President Hafiz Abdul Ghaffar Sultani said that ration packages consisting of items of daily use have been distributed among thousands of people at their doorstep in a dignified manner.