Annual Free Eye Surgery Camp under MWF Narowal

Minhaj Welfare Foundation organized 12 annual free eye surgery camp on November 6, 2009 on Friday where a team of specialist doctors conducted operations of hundreds of patients. Dr Imran Akram Sehaf (Head of Eye Department, General Hospital, Lahore,) supervised the camp, whereas Dr Sayyid Jawad Ahmad (ex-eye surgeon, Mayo Hospital, Lahore,) Dr Amanat Ali (District eye surgeon, DHQ, Narowal, ) Dr Muhammad Naeem Awan (eye surgeon of Mayo Hospital Lahore), Dr Aakash (eye surgeon of General Hospital, Lahore), Dr Sayyid Muzammal Hussain (eye surgeon from Gurat), Dr Ata-ur-Rasool (eye surgeon of Mayo Hospital Lahore), Dr Ahmad Saeed (eye surgeon, DHQ Hospital, Narowal) and Dr Muhammad Iqbal (eye surgeon from Pusroor) rendered their services in the camp.

6 OPD free camps were held before eye camp where 5274 patients were checked and 270 out of them were referred to the eye surgeons for surgery.
12 committees were set up to look after the arrangements of the camp. Hafiz Abdul Haye was assigned the responsibility of the control room. Strict security arrangements were in place. Muhammad Imran Butt, Muhammad Abbas Butt and their team looked after the security arrangements.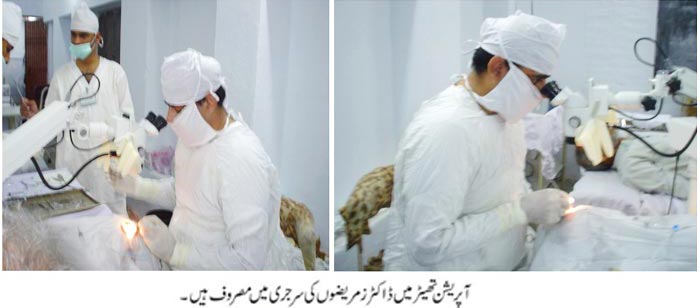 The inaugural ceremony of the free eye surgery camp was held on November 03, 2009 with Salim Iqbal Qadri, president of MQI Narowal in the chair. The proceedings got underway with the recitation from the Holy Quran followed by Naat. Dr Akmal Arshad, EDO Health of Narowal, while representing Waqas Ali Mahmood, District Coordination Officer, thanked Minhaj Welfare Foundation for undertaking a welfare project. MWF made its leader Dr Muhammad Tahir-ul-Qadri proud by running welfare operations, which should be the domain of the government. He assured complete cooperation to MQI in its noble ventures.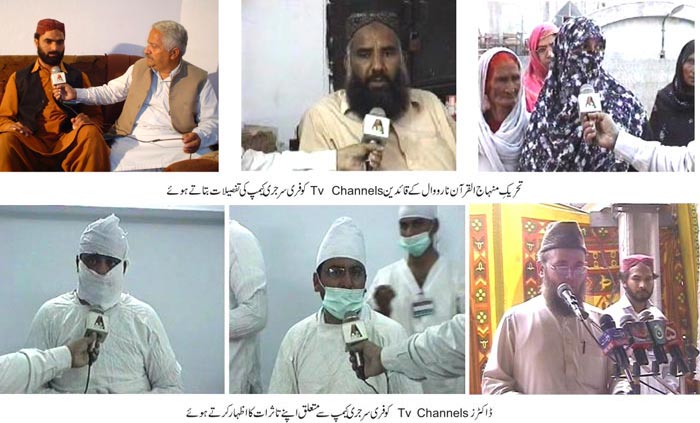 Prof Dr Imran Sehaf said in his talk that he was happy and felt honoured to be part of a humanitarian initiative of Minhaj Welfare Foundation. He said that he had been looking after the camp for last many years and it was a matter of great happiness that every camp proved more successful than the previous one. He said that he found state of the art professional facilities in this camp where the services were of higher standard and the attitude of the staff was exemplary. He said that the usage of new technology and services of expert doctors gave camp a unique touch.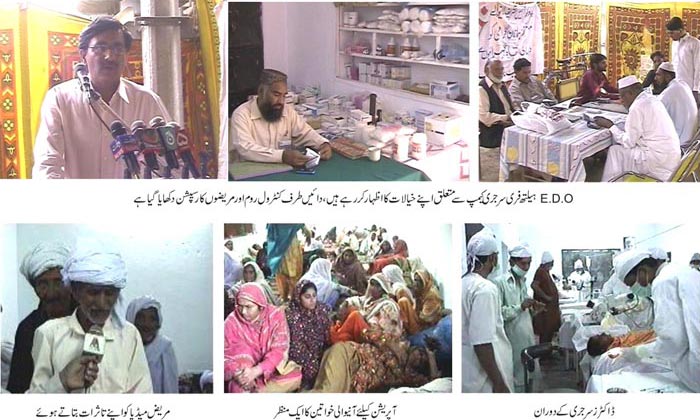 Salim Abbas Qadri, president of MQI Narowal, threw light on the aims and objectives of MQI in his presidential address. Dr Amanat Ali led special prayer for the success of camp and Muslim Umma at the end.
The concluding ceremony of the camp was held on November 06, 2009 with Salim Abbas Qadri in the chair. Qari Bilal Qamer recited the verses from the Holy Quran and presented Naat on the occasion. Haji Muhammad Ismail, senior executive member of MQI Narowal, was the guest of honour on the occasion. In recognition of the excellent services rendered during the camp by Minhaj Welfare Foundation, he handed over a cheque of Rs. 1, 20,000 to Salim Abbas Qadri and Haji Nazir, Director of Welfare.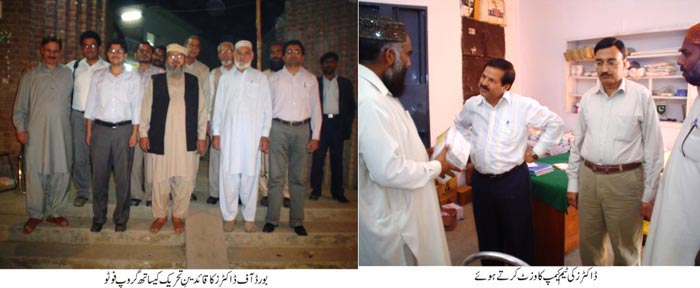 Director Welfare said in his speech that MWF had made every possible effort to render the best services to the patients in every respect and more efforts to improve the camp would be made next year. Rana Muhammad Ashraf said that the residents of Narowal were indebted to MWF for it started a grand welfare project in such a backward area. He also thanked the leaders of MQI for giving people the opportunity to take part in such a noble cause. He assured MQI that he would continue rendering his sacrifice even in future.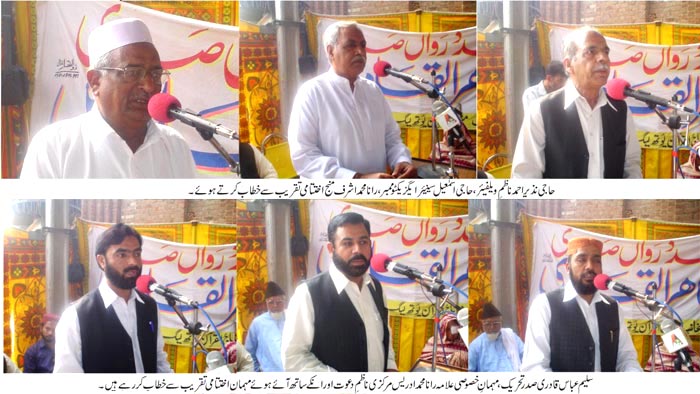 Rana Muhammad Idrees Qadri represented Ahmad Nawaz Anjum, Amir-e-Tehreek of Punjab. He described the importance of eye in the light of the Holy Quran and Hadith. Referring to the Quranic verse, he said that "can those with eyes and those without it be equal". He prayed to Allah to bless all of us with the spiritual insight and pious eyes. In his message he said that MQI had a wider commitment to serve humanity in different fields of life and it was not merely confined to rhetoric but had walked its talk through huge networks of its services. Annual eye camps, mass marriage ceremonies and other such activities were the practical proof of these services. He said that it was our responsibility to join hands with MQI and take part in its welfare-oriented activities so that humanitarian causes could be promoted through practical work.

Salim Iqbal Qadri thanked all guests including the hosts, members of the administrative committees, doctors, representatives of print and electronic media. ATV and Punjab TV gave prominent coverage to the eye camp, whereas Daily Jang, Nawa-i-Waqat, Jinnah, Aftab, and weekly Mera Narowal also published news prominently regarding the camp. He gave concluding instructions to the patients. Rana Muhammad Idrees led the Dua.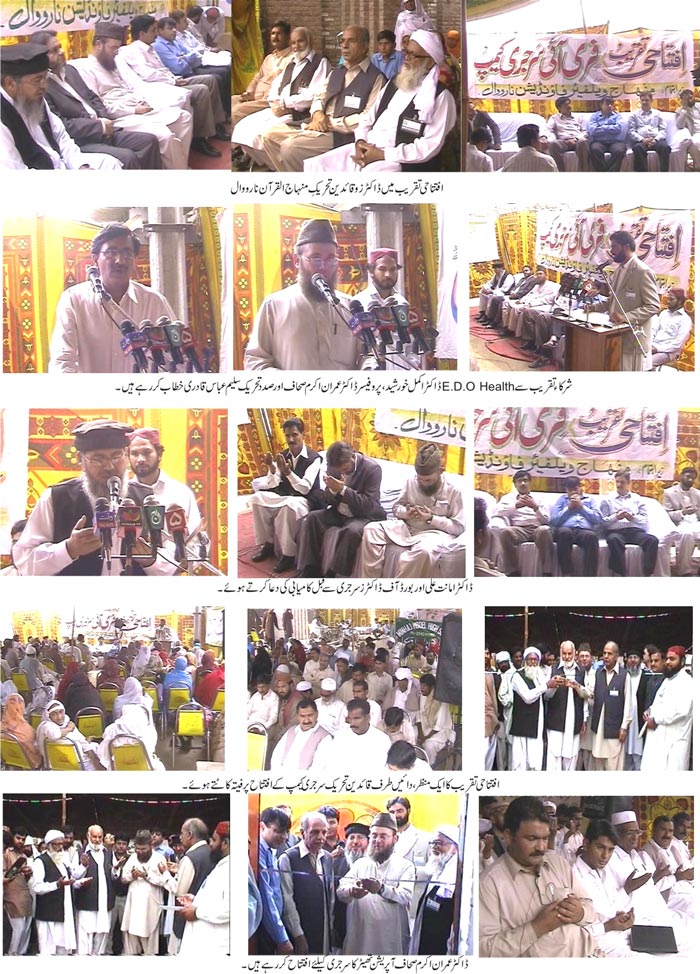 12th Free Eye Camp under Minhaj-ul-Quran (Narowal) Waqt TV News 03.11.09
12th Free Eye Camp under Minhaj-ul-Quran (Narowal) Punjab TV News 03.11.09