MWL holds organizational camp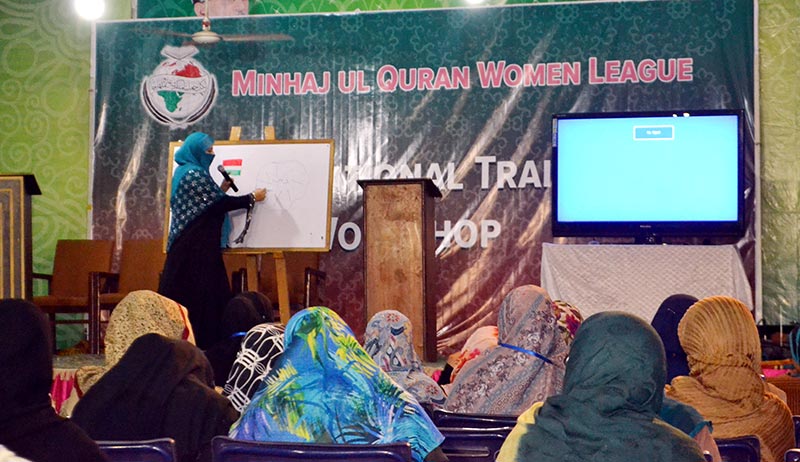 Minhaj-ul-Quran Women League organized an organizational training camp from 25-27 March, 2016. District bodies of MWL from Central, South & North Punjab and Kashmir& KPK actively participated in the camp. Camp was organized with the participation of all central team accordingly
Head: Farah Naz president MWL
Deputy Head: Afnaan babar Secreatry General MWL
Secretary: Aisha Qadri general secretary south Punjab
Head organizer: Anila Ilyas secretary general south Punjab
Deputy organizer: Zainub Arshad president MSM Sisters
Registration & Training Head: Kalsoom Qamar General Secretary Kashmir
Printing & publishing head: Kalsoom tufail coordinator peace forum
On the first day, the camp started with recitation of Holy Quran by Hafiza Aiman Yousaf & Naat Sharif by Sania from Rawalpindi. President Mrs Farah Naz presented the welcome note and after that Secretary General MWL Afnaan Babar started the introduction session in which she introduced all dignitaries of the central MWL to the participants. Afterwards all District Presidents not only introduced their teams but also gave a brief view of their working areas and about the post-sit-in issues. The session continued for two hours in which all zonal general secretaries unanimously welcomed there zones.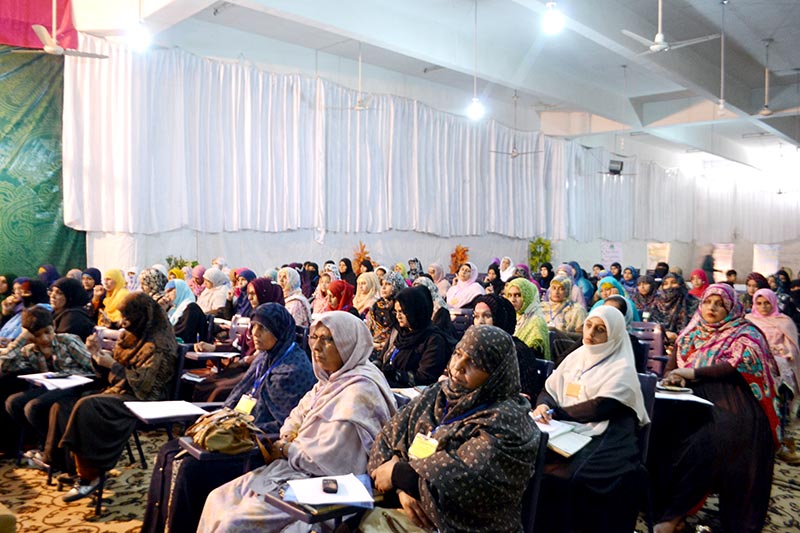 The second day started with the motivational speech of Gulshan irshad director Dawah. Afterwards Secretary General Miss Afnan Babar delivered her 90-minute lecture, in which after giving a brief view of the past and present of MWL, she introduced the new organisational structure for women league. She described how areas are distributed in the Zonal, District, Tehseel and UC coordinators.
Secondly, President Mrs. Farah Naz delivered 60-minute lecture, using multimedia presentation, on the topic of Concept of Leadership in Modern Era. She elaborated the life of a revolutionary by presenting the documentary "Rebirth of an Eagle".
After the tea break, Miss Kulsoom Tufail presented a brief introduction on "Signature Campaign on Zarb-e-Amn Peace Resolution". Later on Naib Nazim-e-Aala Forums Mr. Tanveer Ahmed Khan presented his "organizational plan" in which he gave a brief system of conversion of "Rafiq" into an active worker of MQI.
Third day was started with the lecture of Director Training MQI Mr. Ghulam Murtaza Alvi who gave lecture on the topic "How to counter criticism of opponents in the field". He very logically clarified all the misconceptions prevailing in the society about Dr. Tahir-ul-Qadri,post sit-in criticism , political moves and Mumtaz Qadri's incident. At last group discussion was held between Zonal general secretaries and their district office holders. In this discussion session zonal general secretaries not only delivered the targets but also help them by sorting out the ways to achieve their goals.
At the end of this beautiful and fruitful organizational camp, the President MWL directed the participants to be consistent, hard work, faithful and patience till attaining the aim of peaceful revolution.