Birmingham: Epoch of Karbala a message of peace & patience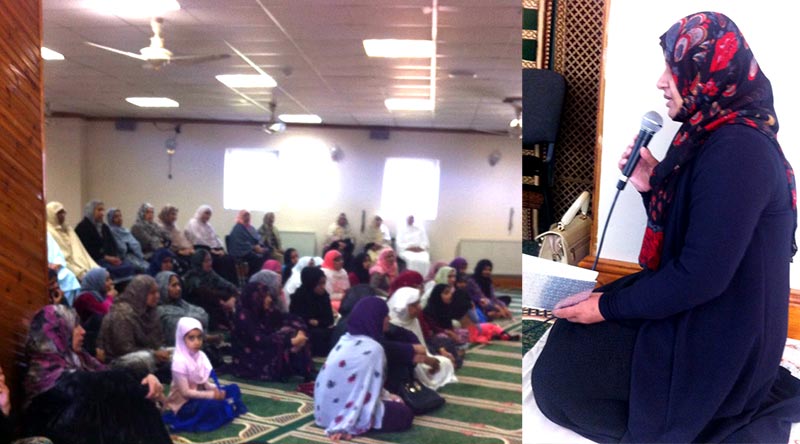 Alhamdulillah by the grace of Allah, another blessed Muharram gathering was held on the 2nd of October 2016 by the Women League of Alum Rock at Minhaj-ul- Quran Naseby Road Birmingham.
This program was hosted by Sister Rukhsana Iqbal MWL (Dawah Secretary of Alum Rock Birmingham) who invited Sister Shaheena MWL (President of Hall Green Birmingham) for Tilawat, followed by Durood Shareef.
An English speech was delivered by Sister Shazia Parveen MWL (General Secretary of Alum Rock Birmingham) who spoke on the importance of the love for Ahl e Bayt and that it is the foundation of our Imaan. Prophet Muhammad (PBUH) loved his grandsons; he used to kiss them and say 'they are my two fragrant flowers in the world.' The holy prophet (PBUH) prayed "O Allah wh ever loves them, You love them too". Sister Shazia also held a stall for Shaykh-ul-Islam Dr Muhammad Tahir-ul-Qadri's literature for sale.
Sister Rukhsana Parveen gave a short message about being patient as in faith, stating that we are all tested by Allah SWT in order for Him to give us a great status and reward.
Sister Asma from Manchester who spoke about the grandsons of Prophet Muhammad (PBUH) and how the martyrdom was already written by Allah and the battle of Karbala was against Yazeed to becoming a khalifa. Imam Husain (AS) refused to pledge allegiance to Yazeed in order to stop him from disfiguring teachings of Islam. Imam Hussain (AS) and his family sacrificed everything but didn't lower their heads in Yazeed's court.
Sister Asma spoke about how the companions of the Imam knew that they were going to be martyred but none of them prayed for their safe return from Karbala. Instead they prayed to Allah to give them patience in Karbala. Martyrs go straight to paradise. This is a way of testing people and the more patience you have the higher the ranks you get in paradise. The Yazeedi people maltreated the Ahl e Bayt by keeping them hungry and thirsty then martyring them all, including a young infant only 6 months old by the name of Ali Asghar. He was martyred by an arrow hitting through his throat.
She said that when Yazeed died even his son stood by his grave and said the worst things about his father and said 'his father is not capable for a prayer of forgiveness'. This was a very emotional program and made the participants teary-eyed. The program was concluded with a beautiful dua and slaam by Sister Asma and food was distributed to all.