Faisalabad: 25 couples enter into marital relationship in MWF's mass marriage ceremony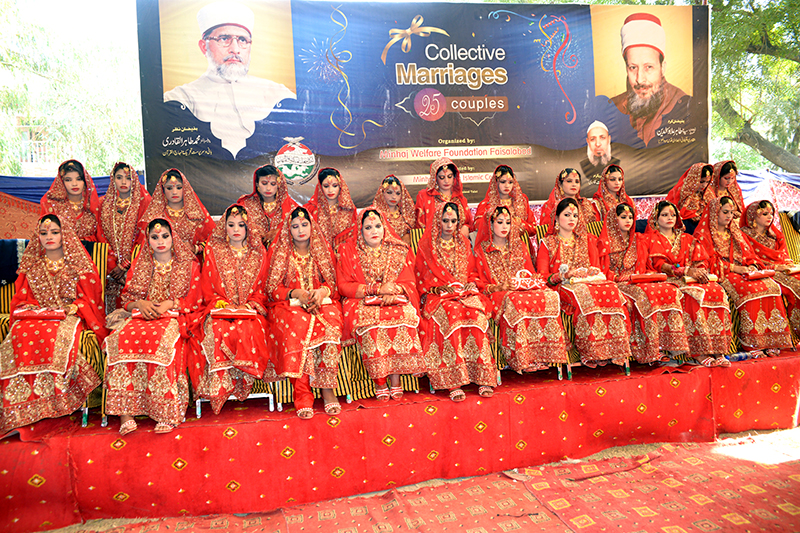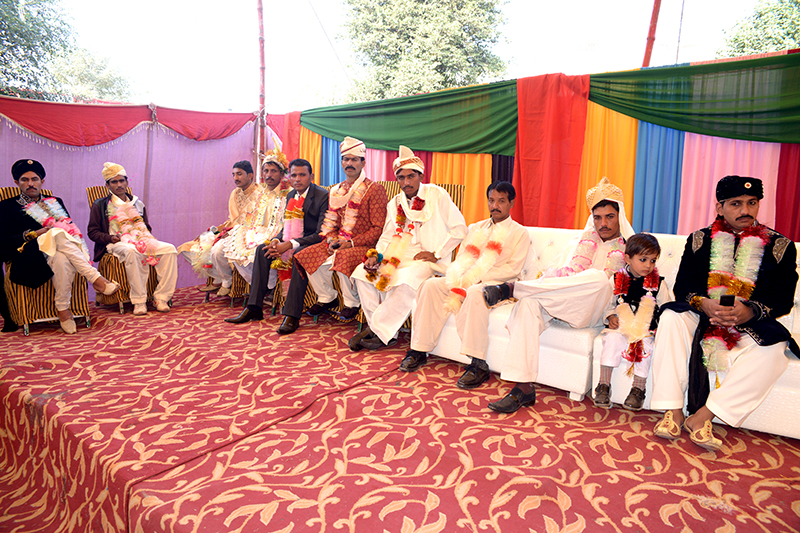 A simple but elegant mass marriage ceremony in which 25 couples tied the knot was held under banner of Minhaj Foundation Faisalabad on December 4, 2016. Syed Amjad Ali Shah, Director of MWF, was the guest of honour on the occasion, whereas Syed Hidayat Rasool Qadri presided over the ceremony. Allama Shahid Latif, Haji Amin-ul-Qadri, Ch Basharat Jaspal, Rana Rabnawaz Anjum, Mian Kashif, Rana Tahir Saleem, Shiekh Ijaz Ahmad, Nadeem Ch, Haji Muhammad Saleem Qadri, Haji Muhammad Ashraf Qadri, Sarfraz Ahmad Qadri, Mian Abdul Qadir, Umair Hanif, Munir Shahbaz, Zain-ul-Abedin, Ghulam Muhammad Qadri and leading people from different walks of life attended the ceremony.
The venue of the ceremony was decorated beautifully to fit the occasion. Barats continued to arrive till 1 pm and were warmly received on their arrival. The army band played its tunes and rose petals were thrown on the guests. The Nikah of the couples were solemnized by Qari Amjad Zafar and Qari Sarfraz Sialvi.
Every bride was gifted with household items of worth Rs. 1.5 lacs that included copy of the Holy Quran, prayer mat, cupboard, Almirah, double bed, chairs and table, washing machine, fan, water set, tea set etc. 1000 guests were served delicious food.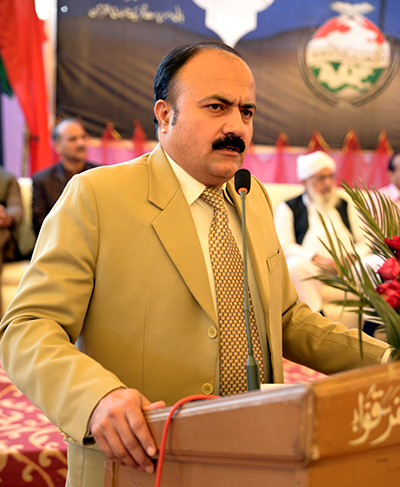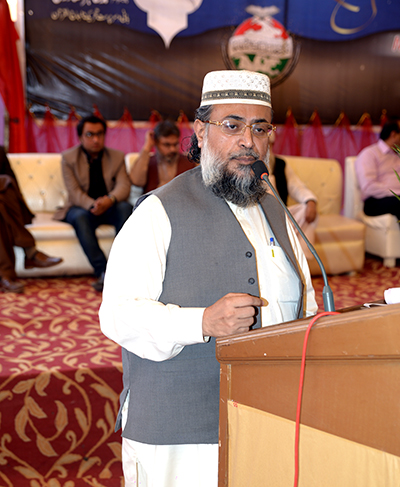 Syed Amjad Ali Shah congratulated the newly married couples on starting a new phase of life and expressed his best wishes for them. He said that MWF has planned to arrange marriages of 62 couples in the holy month of Rabi-ul-Awwal. 25 coupled have been married off in Faisalabad and 25 more will enter into marital relationship on December 14 in Lahore and 12 in Gujrat in the same month.
Syed Amjad Shah said that given the prevailing economic conditions, it has become next to impossible for the poor parents to afford the marriage of their daughters. He said that in order to help the deserving parents, Minhaj Welfare Foundation started the grant project of mass marriage ceremony under the patronage of Dr Muhammad Tahir-ul-Qadri. He said that it is a matter of pride that MWF has set record of public service. He said that mass marriage is just one project of MWF, adding that there is a full basket of many more that is bringing about change in the life of deserving people.
Allama Shahid Latif threw light on the religious and educational services of Dr Tahir-ul-Qadri. He said that MQI is working to project soft, moderate and real image of Islam in the world. He said that MQI has played a leading role in protecting the youth from falling prey to extremist agenda.
While addressing the mass-marriage ceremony, Haji Muhammad Amin-ul-Qadri said that services and contributions of Dr Tahir-ul-Qadri in multiple fields are worth of emulation. He said that Dr Qadri is an ambassador of peace and the struggle he has launched to replace hatred with love is what distinguishes him in the world.
Ch Basharat Jaspal, president of PAT Punjab, said on the occasion that if everyone starts sharing happiness by reducing others' grief, this society can become hub of peace and tranquility. He said that removing poverty, and backwardness is the practice of the Holy Prophet (SAW). He said that various welfare projects launched by Dr Qadri are a role model.
The 25 couples were seen off under the shadow of the Holy Quran. The parents of the brides had tears in their eyes and they expressed their gratitude to Shaykh-ul-Islam Dr Muhammad Tahir-ul-Qadri for his pro-people initiatives.